Pest Control in Pensacola
The Gulf Coast of Florida is known for its sunshine and warm weather. However, it is also known for its armies of invasive bugs. No matter what you try to do to combat them on your own, it often feels like a losing battle. At Beebe's Pest & Termite Control, our exterminators in Pensacola are ready to protect your home from:
Ants

Spiders

Cockroaches

Rats

Mice

Stinging insects

Mosquitoes

Bed bugs

Termites

And many more!
Same-Day and Saturday Service on Your Schedule
You have no control over when a pest problem is going to make itself known. Because of that our phone lines are operational 24 hours a day, so you can get relief as soon as possible. Our experienced exterminators in Florida are available for same-day and Saturday appointments to minimize the inconvenience of a pest infestation.
Image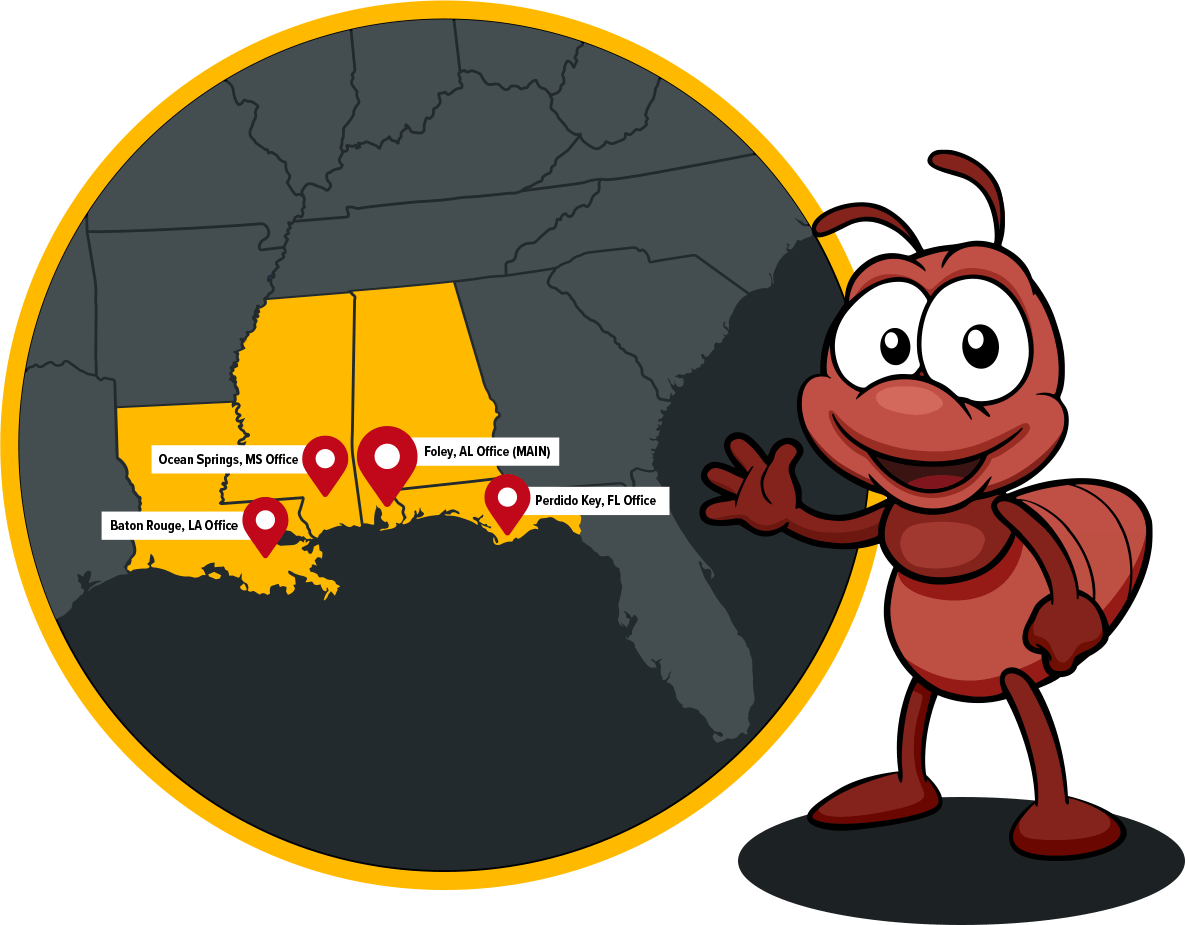 Our Family Protecting Yours
As a family-owned pest control company in Florida, it is important to us that any treatments we use are safe for your family and the environment. We have developed effective pest control treatments that are EPA-approved. With our years of experience, Beebe's professional exterminators in Pensacola can control any bug problems you have more quickly and efficiently than using DIY products.
Our pest control in Pensacola includes: 
A complete inspection of your home and property.

A comprehensive pest control plan that addresses your needs.

Pest removal plans that are proactive and include prevention strategies.

Satisfaction guaranteed or we will return to make things right!
Termite Treatment in Pensacola
Termites are one of the most destructive pests you can find in your home. If left too long without treatment, the speed at which they eat through wooden structures can quickly damage the integrity of your home and lead to costly repairs. With combined termite control experience of more than 125 years, we can answer your questions and determine the best way to rid your home of these voracious pests.
When our trained exterminators visit your home for termite treatment, you can expect them to:
Conduct a complete termite inspection to assess your property for infestation and risk factors.

Design a termite treatment plan with your unique situation in mind.

Use effective, minimally invasive, and environmentally safe termite removal methods to eliminate termites that are in your home and the colonies they came from.

Guarantee that the termites are gone or offer a free re-treatment if they return!
Bed Bug Treatment in Pensacola
Feeling safe and relaxed in your home starts with a good night's sleep. When you're dealing with a bed bug infestation, healthy and restorative sleep may not be possible. With dependable and experienced bed bug control service on your side, you can finally take back your restful nights. Our experienced and highly trained exterminators know exactly how to kill bed bugs and prevent them from coming back, ensuring you the lasting relief you deserve. So when you notice the signs of an infestation in your home, give us a call right away to receive: 
A detailed home inspection

to identify each affected room in your house. 

Customized bed bug treatment plans

that we'll build around your needs. 

Family and eco-friendly products

that get rid of bed bugs while still keeping your loved ones safe. 

FREE retreatments

if bed bugs come back after our work has concluded. 

Available same-day service.

And much more!