Pest Control in Baton Rouge
There's no two ways about it - bugs absolutely love it here in Southern Louisiana. Our warm, humid climate brings them in from miles around but that doesn't mean that you're powerless to fight back. With the local experts at Beebe's Pest & Termite Control on your side, you can count on year-round protection from nuisance pests like:
Ants
Spiders
Cockroaches
Rats
Mice
Stinging insects
Mosquitoes
Bed bugs
Termites
And many more!
Get Fast Relief with our Same-Day Service
A pest infestation in your home is bad enough without having to worry about endless wait times and reorganizing your entire schedule. At Beebe's, we respect your time. That's why we prefer to work around you with our available same-day and Saturday service. No matter when you need help, our 24-hour phone lines are wide open and our local exterminators in Louisiana are standing by to give you back a pest-free home. 
Image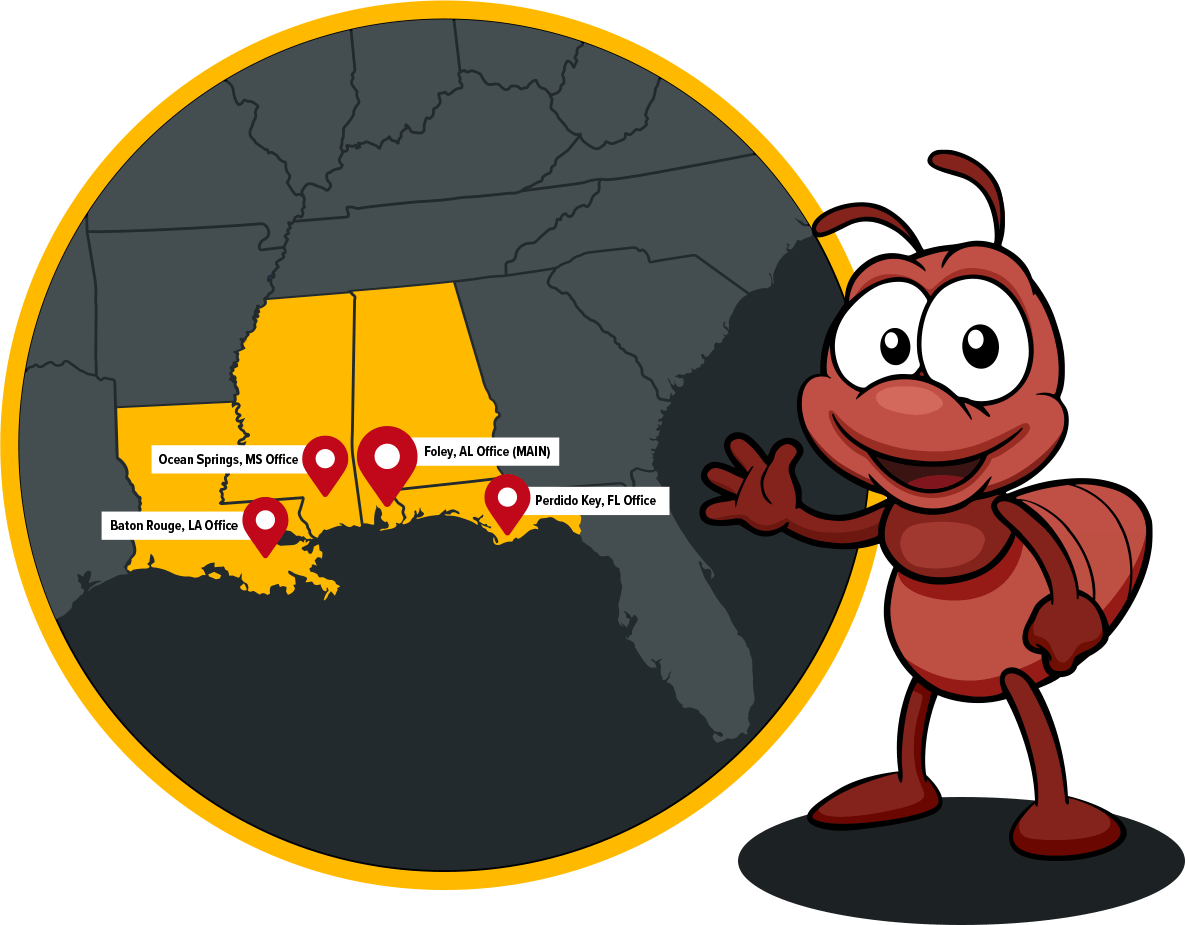 Experienced Exterminators Which You Can Count On
Experience counts for an awful lot when it comes to dealing with bugs. And we're not just talking about how long a pest control company has been in business. We may have been open for more than 40 years, but it's our more than 125 years of collective experience on staff that pays dividends for you. That sort of institutional knowledge and local know-how simply can't be replicated and so often, is the difference between an infestation that gets resolved quickly and one that drags on interminably. When you choose our pest control in Baton Rouge, you can expect:
A careful inspection both in and around your home

from a trained and experienced exterminator in Baton Rouge. 

Personalized, forward-thinking, and flexible pest control plans

that adapt to your needs. 

Ongoing pest prevention strategies

to prevent infestations before they happen. 

Reduced-risk treatment products

for your safety.

Our full satisfaction guarantee and FREE retreatments

if pests come back once we've left. 

And much more!
Termite Control in Baton Rouge
Few pests out there are capable of causing as much havoc in your home as termites. Tiny though they may be, a single termite colony can number in the millions and their appetite for your house never seems to fade. It's little surprise then that nationwide, they cause more than $5 billion worth of damage each year. Your home doesn't need to contribute to that alarming statistic though, at least not when you have the very best termite control in Baton Rouge. When you sign up today, you can expect:
A detailed termite inspection

from a Baton Rouge-based expert.

Flexible and adaptable treatment strategies

which deliver maximum results in your home.

Minimally-disruptive service

which causes as few headaches and hassles as possible. 

Available r

enewable termite treatment plans

. 

Same-day and Saturday appointments.

And a whole lot more!
Mosquito Control in Baton Rouge
Too often, it feels like there's nothing to be done about a mosquito infestation in your yard. Fortunately though, a quality mosquito treatment plan can make all the difference when it comes to keeping your outdoor spaces both safe and comfortable. With an innovative approach and experienced technicians on our side, we at Beebe's Pest & Termite Control have the skills and know how to get rid of mosquitoes for good! So if you're sick of getting eaten alive in your own yard, give us a call today for mosquito control in Baton Rouge. When you do, you can expect:
A full inspection of your yard and the area surrounding your home

from an experienced mosquito exterminator. 

Flexible and personalized treatment plans

which respond to your unique needs.

Top-of-the-line and eco-friendly products

like our MistAway Botanical Insecticide Spray.

A full satisfaction guarantee.

And much more! 
Bed Bug Treatments in Baton Rouge
If your home is playing host to invasive bed bugs, a good night's rest will be the last thing on your mind! Here at Beebe's Pest & Termite Control, we think that our valued clients deserve to sleep soundly at night, which is why we take our bed bug treatment in Baton Rouge so seriously! We're here to help you get rid of bed bugs for good and prevent them from coming back once we've left, so when you sign up for our service, you can expect: 
A thorough in-home inspection

from a local bed bug exterminator.

Customized bed bug control plans

that we design with your needs in mind.

Family and eco-friendly products and methods

which you can count on to work while still keeping your loved ones safe and healthy. 

Guaranteed satisfaction with free retreatments

if bed bugs come back once we've left.

Available same-day and Saturday service

for the fastest relief around.
Rodent Control in Baton Rouge
Just when you thought you'd encountered the worst pests that nature had to offer, along come rats and mice to wreak havoc in your home. These furry little home invaders are relentless in their curiosity, highly intelligent, and capable of causing problems that far exceed their diminutive size. And as anyone who's ever dealt with a mouse or rat infestation can tell you, a reliable rodent control company will make a world of difference. Our service uses industry-leading methods and is carried out by a team of rodent exterminators with more than 125 years of collective experience! So if you're ready to get rid of rodents for good, give us a call today for rodent control in Baton Rouge and receive:
A thorough inspection in and around your home

from a local rodent control expert.

Customizable plans

that we design to address your needs.

Protection from rodent-borne diseases

like Typhus, Hantavirus, and Bubonic Plague. 

Family-friendly

rat and mouse removal and prevention products. 

Available same-day appointments

for the fastest relief around. 

And much more!

 
Get Guaranteed Pest Relief
Choosing to bring in professionals means that you expect the pest problem to be resolved quickly and efficiently, and we are very conscious of that at Beebe's. In order to help all of our customers make the decision, we make sure to offer our pest guarantee with every service. This means that if after service you are unhappy or the pest returns, then we will do everything that we can to resolve the issue, up to and including free retreatments.