Pest Control in Gulf Shores
When pests strike, they can make you feel defeated, and bring discomfort to your home. One thing's for sure, you don't have to deal with it much longer. The knowledgeable exterminators at Beebe's Pest and Termite Control are ready to step in at first sign of an infestation. Don't waste any more time attempting DIY methods that don't work, when you have a reliable pest control company at your service with treatments that guarantee results. Our team can protect you from a variety of pests, such as:
Ants

Cockroaches

Mice

Mosquitoes

Termites

Spiders

Rats

Stinging Insects

Bed Bugs

And more!
Image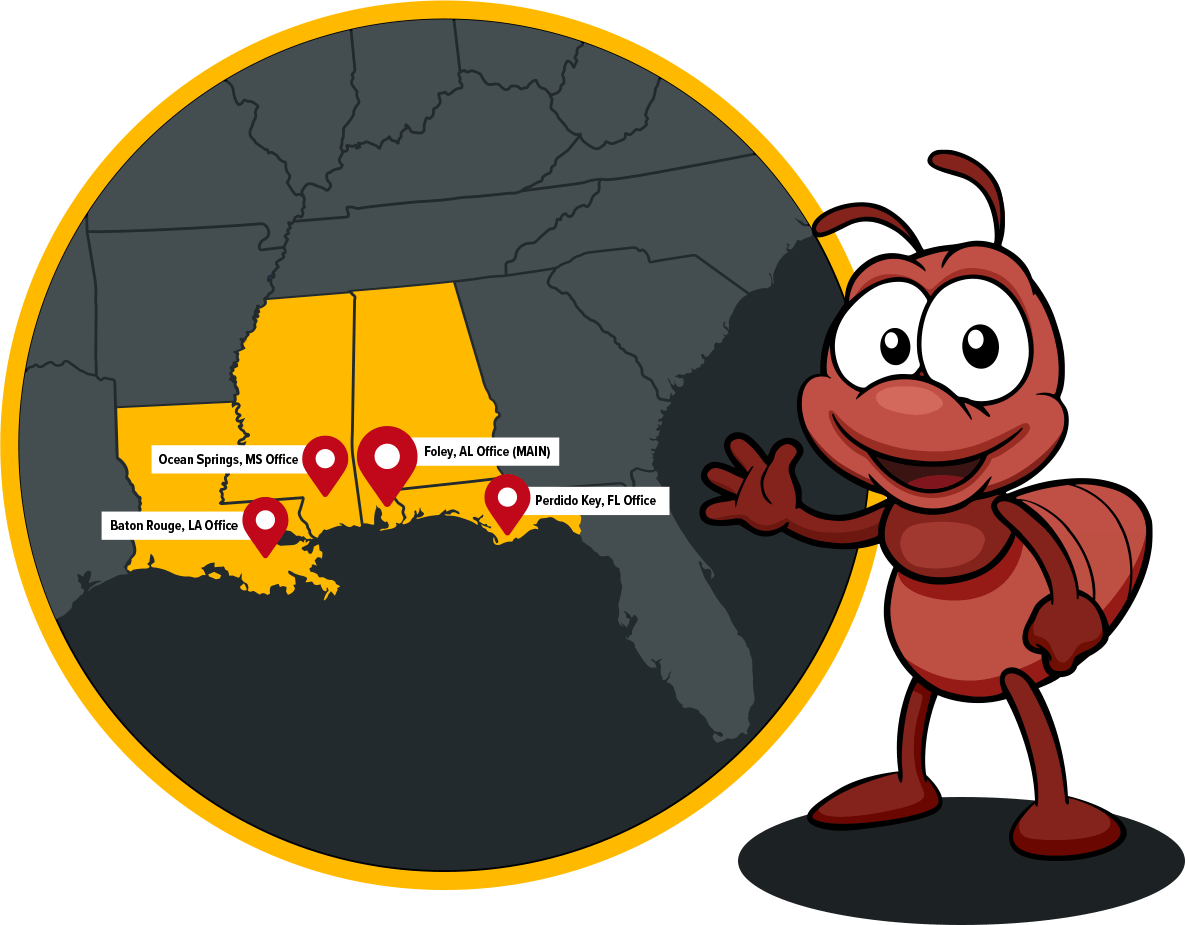 Pest Control That Fits Your Schedule
Let's face it, pests don't wait to attack when it's convenient for you, which is why you have options with Beebe's Pest and Termite Control. Whether you need help immediately, or you need to wait until the weekend, we've got you covered. We make it easy for you with our same-day and Saturday appointment options. When you choose us, you'll never have to wait for expert pest control service in Alabama.
As part of our comprehensive pest control in Gulf Shores you can expect: 
A home inspection to look for entry points and identify what pests are plaguing your home.
A custom treatment plan

created by our highly trained technicians.

The use of safe and effective pest control products and treatments. 
Guaranteed pest relief

with every service!
Termite Treatment in Gulf Shores
If you're unlucky enough to experience a termite infestation, chances are, you're scrambling to come up with a plan. Subterranean termites and drywood termites have the potential to cause some serious damage to your home, so it's crucial to contact a professional immediately. We'll work with you to ensure the value of your home is protected, and restore your peace of mind. 
When you partner with Beebe's for termite control in Alabama, you'll get:
A full

termite inspection

conducted by our exterminators.

Reliable treatment methods

that deliver real results.

A minimally-invasive experience

from start to finish.

Flexible appointment options

that fit your schedule. 

100% satisfaction. 
We believe everyone deserves top-quality termite control, so we want to give everyone the chance to be pest-free for good. Our skilled termite exterminators are determined to give you results that exceed your expectations, so don't wait any longer! 
Rodent Control in Gulf Shores
Common signs of a rodent infestation include bite marks on food packaging, holes gnawed in drywall, and hearing scratching noises. If these sound familiar, don't panic. Our rodent control in Gulf Shores offers safe, effective relief from rats and mice. No matter where they're hiding inside your home, we'll find and remove them. 
When you partner with our rodent control experts, we will:
Inspect your home, both inside and out.
Create a custom treatment plan based on your home's current condition.
Use family-friendly products to get the job done safely.
Back our services with a 100% satisfaction guarantee.

Available same-day services!