Pest Control in Louisiana
Known for its distinct communities, legendary food, and warm, subtropical climate, Louisiana's Gulf Coast is a wonderful place to be. Unfortunately though, a wide variety of household pests think so too. That means you need the very pest pest control in Louisiana to keep your home safe.
We offer pest control services in:
New Orleans
Thibodaux
Shreveport
Lafayette
Lake Charles
Metairie
And surrounding areas
Image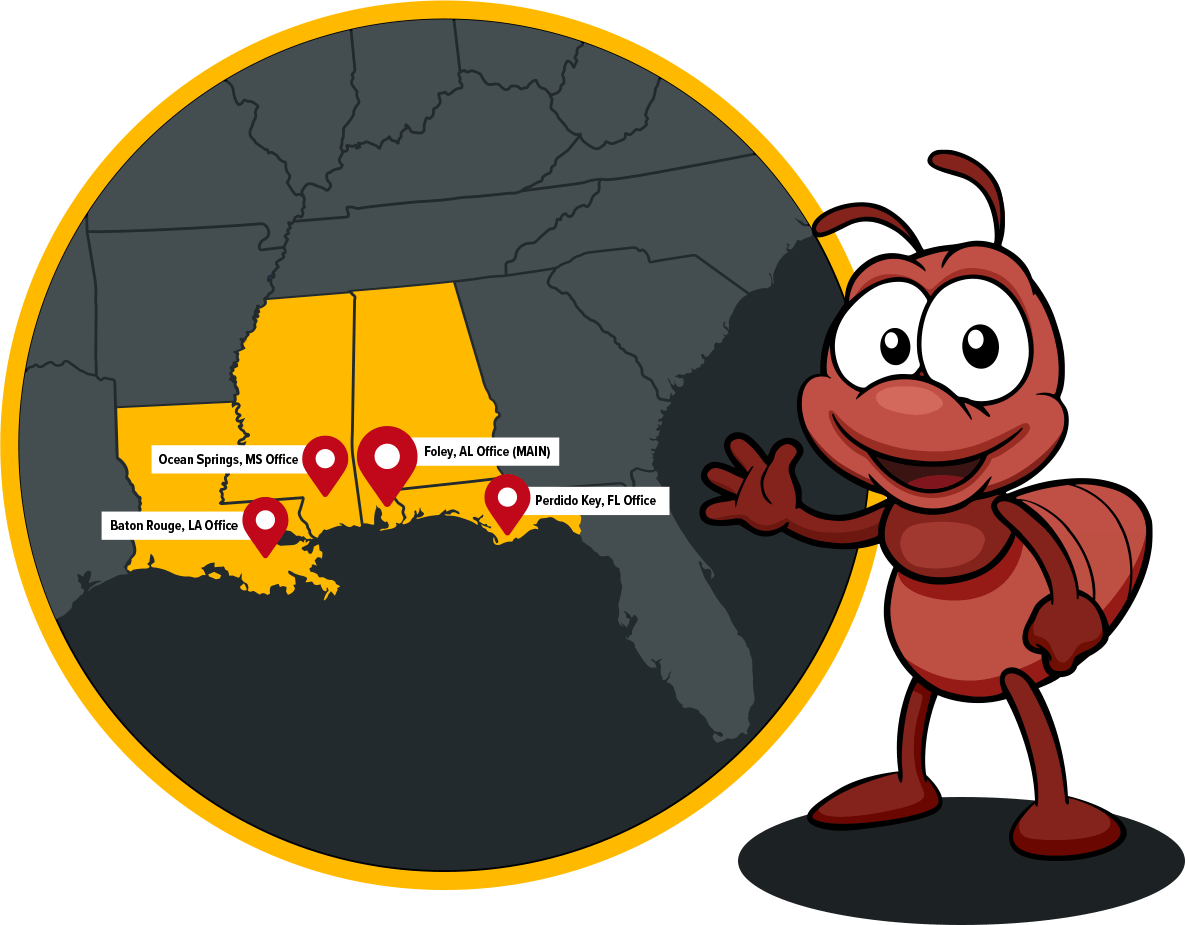 Over a Century's Worth of Experience on Staff
Here at Beebe's Pest Control, we've been in business since 1979 and our team of pest exterminators boasts more than 125 years of collective experience! We can't wait to show you the difference that hiring an experienced team can make, so sign up for our service today to receive: 
A thorough inspection

in your home. 

Custom-built pest removal plans

from our team to address your every need.

Reduced-risk and eco-friendly products. 

Our ironclad satisfaction guarantee

with

free retreatments

if you need them.

And much, much more!
Pest Control on YOUR Schedule
Despite all of our years on the job, we still can't work out why some pest control companies don't value their customers' time. We're dedicated to doing things differently and putting our valued clients first, offering available same-day and Saturday service! So the next time pests invade your home, get rid of them on your terms and work with the Gulf Coast's best.
Termite Treatment in Louisiana
If you own a home on the notoriously humid Gulf Coast, we're guessing you aren't crazy about termites. Don't worry, we aren't either. And why should we be? After all, they're responsible for over $5 billion in home damage across America every year. It suffices to say that termite treatment in Louisiana is a must-have. Time is everything when it comes to tackling destructive termites in your home, so let us know if you observe any of the following:
Hollow-sounding wooden structures with a papery feel to their surfaces.

Warped window and door frames. 

Buckled floorboards which appear to have sustained water damage.

Piles of shed insect wings, most often during spring.

Quiet scratching or chewing noises coming from behind walls.

Powdery black or brown termite droppings, usually found at exits to their tunnels.
Mosquito Control in Louisiana
South Louisiana is known for many things, mosquitoes unfortunately being one of them. These vicious and relentless bloodsucking pests can ruin even the most pleasant day spent outside with their high-pitched buzzing and itchy bites. However, they're also capable of spreading some of nature's most dangerous diseases, including:
Malaria

West Nile Virus

Zika Virus

Yellow Fever

Dengue Fever

Various forms of Encephalitis

And many others
Particularly down here on the Gulf Coast where mosquito populations can easily get out of control, you're potentially one bite away from some serious health problems. That's exactly why you need the best mosquito control in Louisiana from the local experts with the experience you can depend on. Don't settle for anything less and keep your loved ones safe and healthy!
Rodent Control in Louisiana
A rat and mouse infestation is among the most stressful things you can experience as a homeowner. And there are more than a few good reasons for that. For as unnerving an experience as it can be though, you're in good hands at Beebe's Pest Control. Our rodent control in Louisiana is exactly what you need to maintain a safe, clean home that you can count on to last all year. With the Gulf Coast's finest exterminators working for you, you can expect:
An extensive in-home inspection

from a local expert.

Personalized and flexible rodent control plans

that we design to meet your needs.   

Eco-friendly mouse and rat control products

.

Protection from dangerous diseases like

Typhus, Hantavirus, and even Bubonic Plague

.   

A rodent-free home GUARANTEED!
The Gulf Coast's Most Trusted Satisfaction Guarantee
When you're facing an infestation in your home, you need a company that you can count on to do the job right every time. As a family-owned pest control company with deep roots in the region, we understand that. That's why we back our services with a 100% satisfaction guarantee and free retreatments if pests come back.  So when you need to get rid of pests quickly and completely, you know who to call!