Pest Control in Daphne
Do you currently have unwanted guests in your home? Pests can find their way into your home through cracks in your foundation, vents, or even your walls. Partner with Beebe's Pest & Termite Control to keep pests out of your home! Daphne faces pest problems year-round but luckily Beebe's has developed year-round pest control services that will protect you and your family. We have served our local communities for over 40 years, so you can trust that your home is in good hands.
Our experienced team can help guard your home against:
Bedbugs

Earwigs 

Spiders 

Termites 

Ticks 

Rodents 

Mosquitoes 

And much MORE!
Image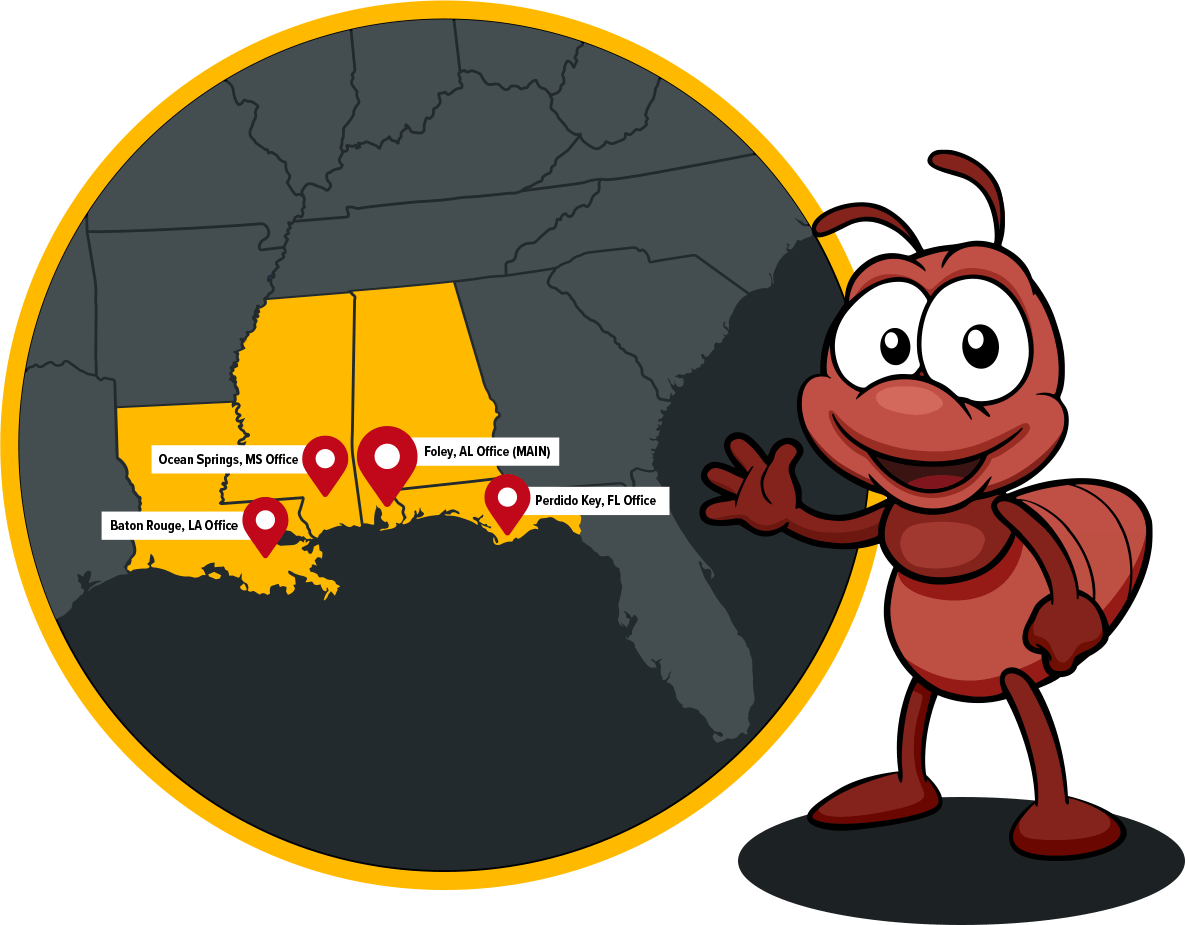 Quality Pest Control with a 100% Satisfaction Guarantee
As a family-owned and operated business, we take pride in our work and strive to provide the best possible services. We use quality treatment products and methods to ensure your home is free from pests. If you are not 100% satisfied with your pest control service, let us know and we will re-service your home for free!
Termite Control in Daphne
Have you discovered termites in your home or want to safeguard against them? Termites can cause extensive damage to your home's structure and often go undetected until there is a tremendous amount of damage. Luckily, Beebe's Pest and Termite Control has decades of experience and a team of qualified professionals that can determine if termites are present in your home and help protect it against future infestations. 
Warning signs of termites in your home:
Mud tubes 

Bucking or warped floorboards

Small pinholes

Discolored drywall

Peeling paint 

Small piles of dust or dirt 
Local, Experienced Termite Exterminators 
As a locally owned and operated company, we treat our customers with the utmost respect and strive to keep the Daphne community safe from termites. We have been in the termite business for over 40 years and are highly skilled in taking down these small but detrimental insects. 
Our termite treatment in Daphne includes:
A comprehensive home inspection

to find even the most elusive infestations. 

Treatment plans curated for your home

to best fit its unique needs.

Same-day and Saturday Service

so we have you covered no matter when termites may strike.

Total satisfaction guarantee, so if you are not happy with our service we will treat your home for free! 
Rodent Control in Daphne
Rats and mice aren't just annoying, they're also dangerous. These pests can transmit hantavirus, leptospirosis, and countless other diseases. They can even increase your risk of a house fire by chewing through electrical wires. Instead of trusting store-bought remedies, choose our professional rodent control in Daphne. We offer guaranteed results to give you relief you can count on.
Our rodent control experts will:
Inspect the interior and exterior of your home

for signs of rodents.

Create a custom rodent removal plan

based on our findings.

Eliminate pests using

family-friendly products.

Give you our

satisfaction guarantee,

which includes free re-treatments.

Protect your home and family

from unwanted rats and mice.
Get Guaranteed Pest Relief
Choosing to bring in professionals means that you expect the pest problem to be resolved quickly and efficiently, and we are very conscious of that at Beebe's. In order to help all of our customers make the decision, we make sure to offer our pest guarantee with every service. This means that if after service you are unhappy or the pest returns, then we will do everything that we can to resolve the issue, up to and including free retreatments.