Get Rid of Unwanted Pests in Fairhope with Your Professional Exterminator!
What kind of problem are you having? Select all that apply.
Pest Control in Fairhope, AL
Are you tired of sharing your home with unwanted pests? Look no further! Beebe's Pest & Termite Control is here to provide you with top-notch pest control services in Fairhope, Alabama. With over years of combined experience, our team of expert exterminators is dedicated to ensuring your home is pest-free and your family is safe. 
We service the following pests:
Ants
Beetles
Bed bugs
Centipedes
Crickets
Earwigs
Fleas
Flies
Mosquitoes
No see ums
Rodents
Silverfish
Spiders
Stinging insects
Stink bugs
Termites
Ticks
And many more!
Services We Provide in Your Area
Image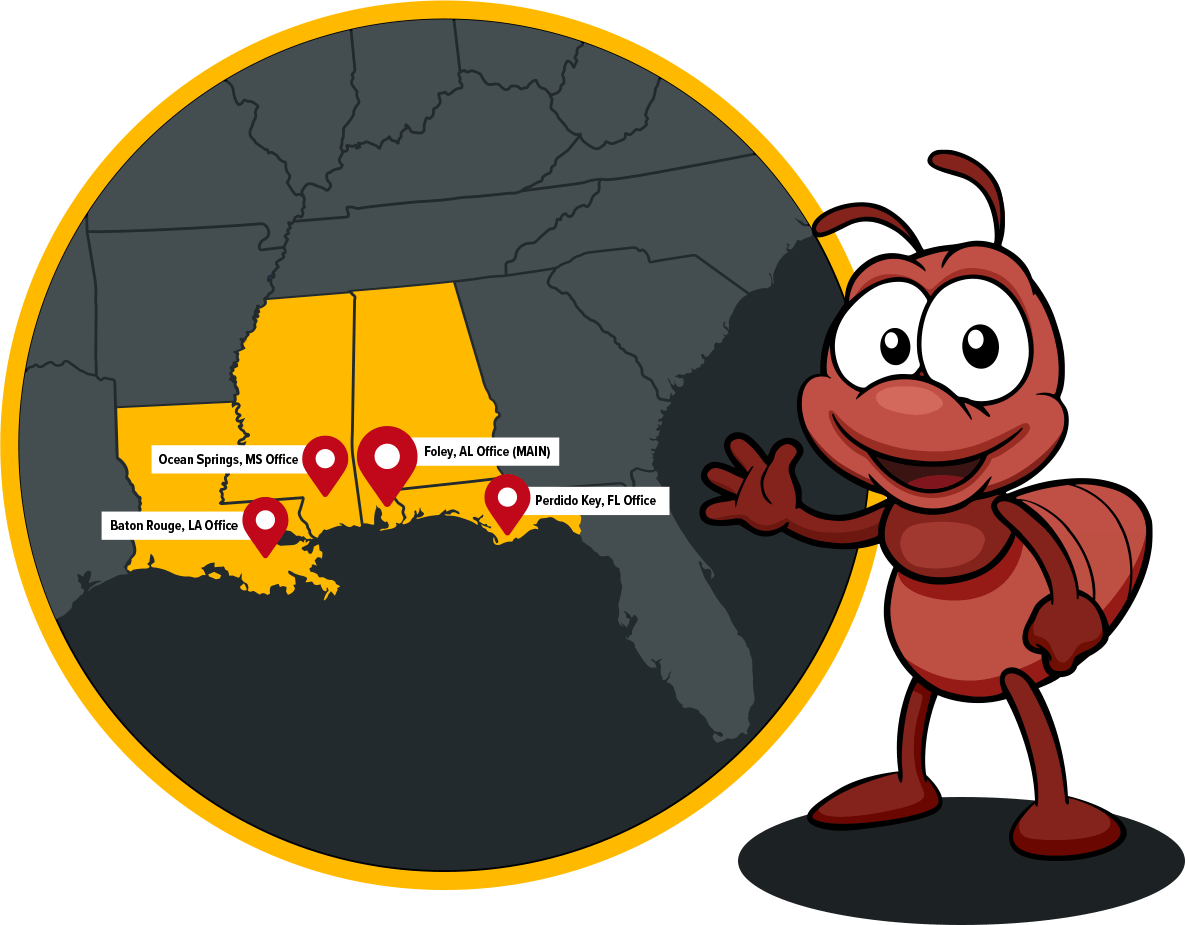 Local Exterminators in Fairhope, AL
Are you tired of dealing with pesky household pests in Fairhope? Look no further! At Beebe's Pest & Termite Control, we offer top-notch, same-day residential pest control services to help you reclaim your home from unwanted intruders. Our team of experienced exterminators is dedicated to providing you with effective and reliable solutions to tackle all your pest-related challenges. 
Our pest control services include the following:
Thorough pest inspection to identify the pest and their nesting location
Comprehensive pest treatment to eliminate the current population of insects in your home
The use of pet and family-friendly solutions to ensure your loved ones are not exposed to harsh chemicals
Satisfaction guaranteed, if your treatment is not to your satisfaction, we will return to retreat your home for free.
Termite Control in Fairhope, AL
When it comes to termite control in Fairhope, AL, experience matters. With over years of experience, we are the trusted termite exterminator in the area. Our team understands the unique challenges posed by Fairhope's humid climate, making us the experts in ongoing termite monitoring and prevention.
Why choose our termite control service in Fairhope?
Family and pet-friendly termite treatments: We prioritize the safety of your loved ones. Our treatments are designed to eliminate termites while minimizing any risks to your family and pets.
Ongoing termite control: We don't just get rid of termites once, we provide comprehensive, long-term solutions. Our team will create a personalized termite control plan tailored to your specific needs, ensuring that your home remains termite-free.
Comprehensive termite inspections: Our thorough termite inspections identify risk factors in your home and allow us to develop effective treatment plans. We leave no stone unturned in our mission to protect your property.
Don't take termite damage lightly. Our termite control service in Fairhope is backed by a total satisfaction guarantee, including FREE re-treatments if you're not happy with our work. Plus, when you renew your termite plan, you'll receive $20 off.
Bed Bug Control in Fairhope, AL
Trust the most experienced bed bug control service in Fairhope to eliminate those nasty parasites from your home. Our expert bed bug exterminators have over 125 years of combined experience, making us the go-to team in the Gulf Coast region.
When you choose our services, you can expect:
Same-day and Saturday bed bug inspections for immediate relief.
Personalized bed bug removal plans tailored to your specific needs.
Family-friendly treatments that are safe for your loved ones.
Guaranteed satisfaction with free retreatments if pests return.
Our goal is to provide rapid relief, understanding the stress and urgency of a bed bug infestation. With our same-day and Saturday service, you can start getting rid of bed bugs today. Regain your peace of mind and sleep easy knowing that your home is bed bug-free.
Mosquito Control in Fairhope, AL
Living in Fairhope, AL means dealing with pesky mosquitoes. But don't worry, we've got you covered with our top-notch mosquito control services. Trust us to keep your outdoor spaces mosquito-free all season long.
Here's why you should choose our mosquito control in Fairhope:
Free inspection: We'll come to your property and assess your mosquito control needs. Our experts know exactly what to look for and how to best tackle the problem.
Larvicides in targeted areas: We'll also target mosquito breeding areas with larvicides to prevent future infestations. It's all about stopping them at the source.
MistAway System: For maximum effectiveness, we offer the MistAway mosquito control system. This innovative system sprays a fine mist of botanical insecticide through strategically placed nozzles on your property, ensuring complete coverage.
Climate and geography: Fairhope's climate and geography make it a hotspot for mosquitoes and ticks. Our services are tailored to address the specific challenges of this area, keeping you and your family protected.
Don't let mosquitoes ruin your outdoor enjoyment. Choose our mosquito treatment and prevention services in Fairhope to reclaim your yard. Call us today for a mosquito-free summer!
Wildlife Control in Fairhope, AL
Introducing our top-notch wildlife control service in Fairhope, Alabama! We understand that having wild animals invade your home is a major concern, so let us handle the situation for you. Our team of expert exterminators has over 125 years of collective experience and is ready to provide you with the finest service available.
Why choose us for wildlife removal in Fairhope?
Comprehensive property inspection: We will thoroughly assess your entire property to identify your specific wildlife control needs and any risk factors.
Personalized plans: We create customized plans tailored to address your unique requirements and ensure effective removal and prevention of wild animals.
Humane trapping and removal: Our methods prioritize the well-being of the animals while safely eliminating them from your property.
Protection from parasites and diseases: We go the extra mile to safeguard your home from ticks, fleas, and even the Rabies virus.
With our ongoing wildlife removal and prevention services, you can rest easy knowing that we have your back. Say goodbye to unwanted critters and enjoy a pest-free home. Contact us today to get rid of those uninvited guests and experience the difference of our professional and humane approach to wildlife control in Fairhope.
Rodent Control in Fairhope, AL
When it comes to rodent control in Fairhope, trust the experts at Beebe's Pest & Termite Control. Our experienced rodent exterminators provide top-notch service that you can count on.
With us, you'll receive:
Free rodent inspection: We'll thoroughly inspect your home's interior and exterior to identify any signs of rodent activity.
Custom-designed rodent removal plan: Our qualified, local experts will create a personalized plan to effectively eliminate rodents from your property.
Family-friendly products and methods: We use safe and eco-friendly techniques to ensure the well-being of your family and pets.
Protection from dangerous diseases: Our services safeguard against diseases like Hantavirus, Typhus, and even Bubonic Plague.
Ongoing prevention: Our rodent control service includes recurring visits to prevent future infestations.
Fairhope, Alabama's unique features naturally attract rats and mice. Don't let these pests take over your home. Contact our rodent control service in Fairhope and get rid of rodents once and for all. Trust Beebe's Pest & Termite Control for reliable and effective solutions.