Pest Control in Florida
Florida's Gulf Coast region is no stranger to its share of troublesome household pests. The warm weather, comfortable conditions, and heavily-populated urban areas loan themselves to a wide variety of infestations and pest-related pressures. But with the experts at Beebe's Pest & Termite Control working for you, your home will be protected from pests for the long haul.
We offer pest control services in:
Navarre
Destin
Pace
Gulf Breeze
Perdido Key
And surrounding areas
Image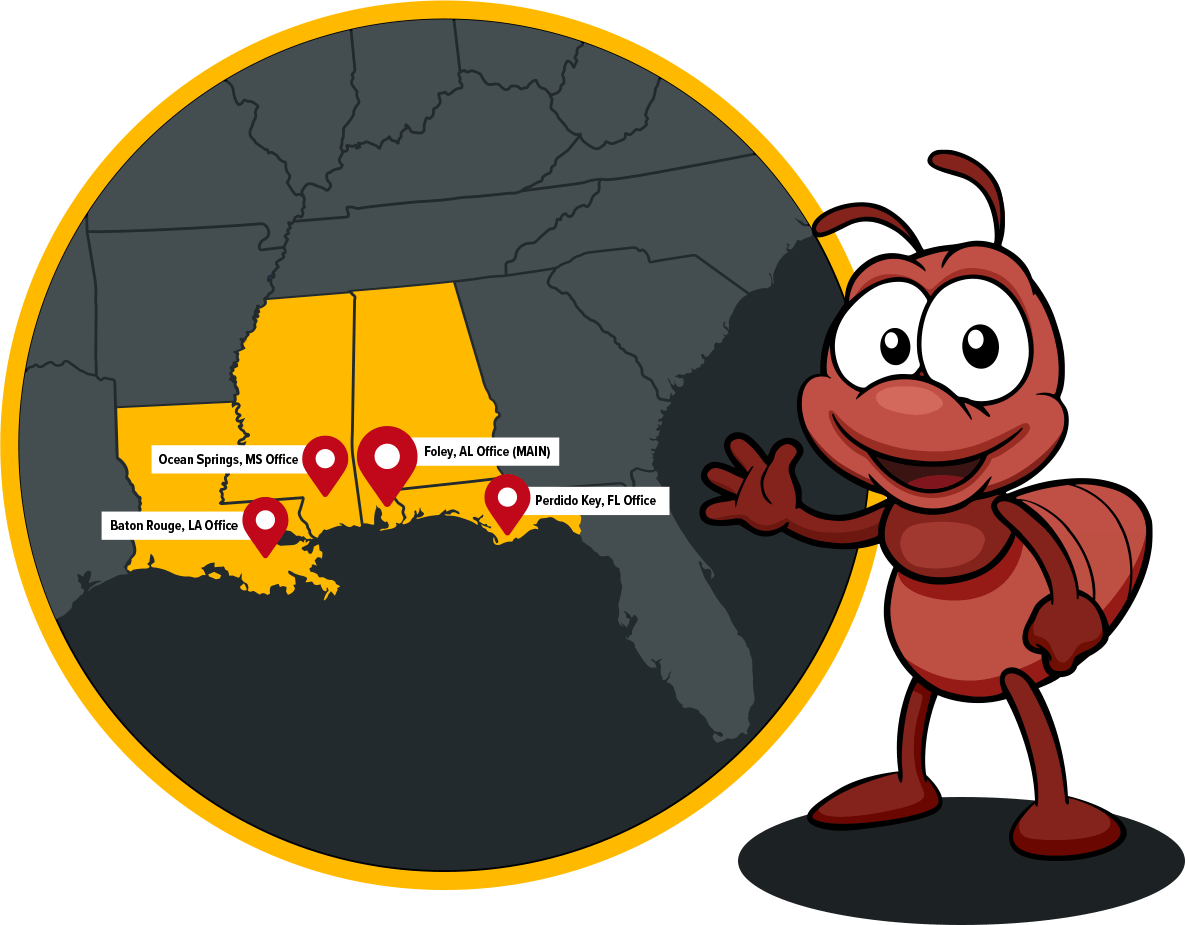 The Safe, Eco-Friendly Option
When you're dealing with nuisance pests in your home, the last thing that you need is something else to worry about. That's precisely why we choose to take a responsible and conscientious approach to our pest control in Florida. Every product we use is carefully chosen, strategically applied, EPA-approved, and environmentally-friendly. As a family-owned company ourselves, we also go above and beyond to ensure that we only use the safest, highest-quality materials in your home to ensure maximum results. 
Our pest control service includes:
A detailed inspection

of your home's interior and exterior.

Tailor-made pest removal and prevention plans

that we'll build to meet your exact needs. 

Service from some of the

most highly-trained exterminators

on the Gulf Coast.

The

pest-free home

that you deserve.

And more!
Your Satisfaction Fully Guaranteed 
No matter which pest invades your home, it's got to go. That means you can't afford to roll the dice on a pest control company who won't stand behind it's own work. We, on the other hand, back out service with a 100% satisfaction guarantee and offer FREE retreatments if bugs come back once we're gone. On top of that, we offer a full money-back guarantee if you still aren't happy with our results.
Termite Treatment in Florida
Termites love the Sunshine State. They're drawn to humidity and of course, moist conditions cause wooden structures to decay quickly, making your Florida home that much more attractive. Nationwide, termites cause more than $5 billion in home damages each year, meaning that you need an experienced professional to keep them away. And with more than 125 years of combined experience on staff, you can count on us to deliver the finest termite control in Florida to your front door! 
A few signs of termite activity in your home include:
Quiet chewing or scratching noises coming from behind walls.

Hollow-sounding wooden structures, usually with a papery-feeling surface. 

Warped door and window frames.

Buckling floorboards that may appear to have suffered water damage.

Large amounts of shed wings, most often during springtime.
Mosquito Control in Florida
Anyone who's spent even a little bit of time on Florida's Gulf Coast knows that mosquitoes here are a problem. Given their ability to spread tropical diseases like West Nile Virus, Yellow Fever, Dengue Fever, and Malaria you can't afford to not take them seriously. Fortunately at Beebe's Pest & Termite Control, we approach mosquito control in Florida with the gravity that it deserves. With the industry-leading MistAway botanical insecticide spray forming the backbone of our service, you can expect year-round relief from even the most aggressive mosquitoes. Take back your outdoor spaces and book your FREE inspection today!
Rodent Control in Florida
As recently as last year, Tampa was still considered one of the 50 "Rattiest cities," in America. It suffices to say then, that rodents like Florida's Gulf Coast region just fine. If you live anywhere near a significant mouse and rat population, you need a company that can keep them out of your home all year! At Beebe's Pest & Termite Control, our rodent control in Florida gives you the comprehensive protection that you need and long-lasting relief that you deserve. Sign up for our service today to get:
A thorough inspection of your home

.

An assessment of risk factors

that may lead to an infestation. 

A mouse and rat removal and prevention plan

designed around your needs.

 

Family-friendly mouse and rat control products

.

Protection from rodent-borne diseases

Typhus, Hantavirus, and Bubonic Plague

.   

A rodent-free home guaranteed!
Same-Day Service for Quick Relief
During a pest infestation, waiting around for help is often the worst part. With our available same-day and Saturday service though, you can get rid of pests on your schedule! Don't spend a single unnecessary moment living alongside these uninvited guests and instead, give us a call today.