Pest Control in Foley
The climate in Foley makes it a wonderful place to live all year round, but unfortunately, this applies to pests just as much as it does to us. Regardless of how well a home is kept, once a pest has found its way inside, it can be very difficult to remove. Rather than gambling on unreliable store-bought methods, let our teams take away any stress or worry you may have with our complete pest control removal approach, which will handle all of the following pests: 
Ants

Spiders

Cockroaches

Rats

Mice

Stinging insects

Mosquitoes

Bed bugs

Termites

And many more!
Eco-Friendly Pest Control 
Conventional pest control often comes via the use of extremely toxic chemicals, which can pose a threat not only to the greater environment but also to your loved ones. Beebe's Pest & Termite Control is proud of the work that has gone into developing our own pest control methods which are all environmentally friendly and EPA approved. This means that everything will stay nice and safe, whilst you still receive the most effective pest control in Alabama. 
Image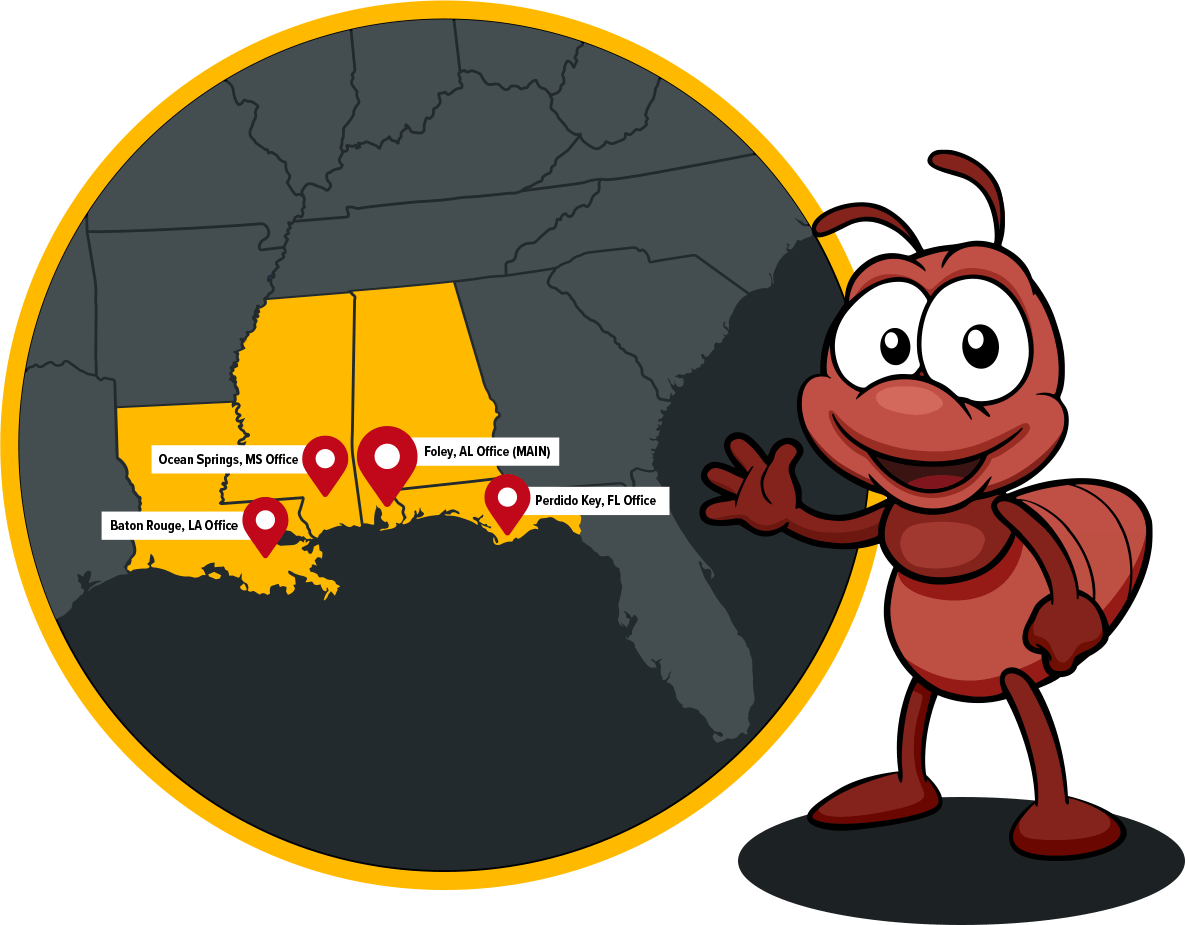 Comprehensive Pest Control By Expert Exterminators
Although it may be possible to handle a small pest problem by yourself, if it is handled incorrectly or insufficiently there is a chance that it would spread incredibly quickly. Rather than you risking a full-blown ant invasion or colony of termites, let us provide you with quality pest control that will ensure any current pests are removed and any future pests are repel. Our trained exterminators in Foley have years of experience and can provide you with the best pest control experience whilst at the same time being friendly and helpful and answering any questions you may have.
As part of our comprehensive pest control in Foley you can expect: 
A full home inspection

to locate and identify the species of pest that needs to be removed.

A custom treatment plan

developed to specifically meet the needs of you and your home. 

Active pest removal

utilizing a variety of safe and effective pest control products and treatments. 

Guaranteed pest relief

with every service!
Termite Treatment in Foley
Termites are one of the most terrifying pests for a homeowner. Their voracious appetite for wood combined with the fact that they don't sleep is what leads to them being responsible for over $5bn worth of property damage each and every year in the United States. To help stop your home from becoming another statistic, our team would like to offer our expertise in termite removal and protection. Here at Beebe's Pest & Termite Control, we have a combined more than 125 years of termite control experience, so will be able to solve any issue and answer any question you may have about termite control.
As part of the comprehensive termite treatment in Foley, you can also expect to receive:
A full termite inspection

to locate any active termites and identify termite risk factors in the home. 

Personal termite control

that matches the specific needs of you and your home. 

Active termite removal

using minimally invasive and environmentally safe products. 

Same day and Saturday service

to make sure that any termite issue is resolved as fast as possible. 

Guaranteed termite removal and protection

with free retreatments if the termites return. 
Rodent Control in Foley
Not only can rodents spread disease but they are also known for causing severe damage to your home, even chewing on wires and starting electrical fires. At Beebe's Pest & Termite Control, we understand how dangerous these pests are and we're committed to providing quality rodent control in Foley to keep you and your family protected.
Trust Our Experienced Rodent Technicians
If you've noticed scratching sounds or small holes in the walls of your home, these are some of the signs that you might have a rodent infestation. Our exterminators in Alabama have a combined total of 125 years of experience, providing rodent control in the Gulf Coast that's backed by extensive knowledge and the latest techniques.
When you partner with us for rodent control in Foley, you can expect:
A quality inspection

inside and outside of your home.

A removal plan customized to fit your home's needs.

Family-friendly products

that remove rodents without putting your loved ones at risk.

Same-day and Saturday servicing

for relief as soon as possible.

And more!
We're proud to stand by our local experts with a 100% satisfaction guarantee. And if rats and mice come back after we're gone, we promise to re-treat the area for free!
Mosquito Control in Foley
Living on the Gulf Coast, we understand that the weather here in Foley results in some of the most aggressive mosquito conditions in the country. Mosquitos can put you, your pets, and your loved ones at risk of developing diseases such as Malaria and Zika Virus. Keep you and your family safe by partnering with our experts at Beebe's Pest & Termite Control.
When you receive mosquito control in Foley from us, you can expect:
A detailed outdoor inspection.

A personalized treatment plan

designed to fit the needs of your family and property.

Maximum protection with application of

MistAway Botanical Insecticide Spray

.

 Environmentally-friendly products.

100% satisfaction guaranteed.

And more!
Same-Day & Saturday Mosquito-Spraying Service
At Beebe's Pest & Termite Control, we want to make sure that your home is protected against mosquitos as soon as possible. We don't want you to have to suffer through another day of these pests swarming your yard. That's why we believe it's important that we provide quality care to our customers with same-day servicing including on Saturdays. 
Bed Bug Control in Foley
No one deserves to feel uneasy in their own home, and that's exactly the feeling that bed bugs cause upon discovery. A lack of rest can cause irritability, poor health, and a decline in academic and professional performance. You deserve to get a good night's rest in your home, which is why you need to call Beebe's Pest & Termite Control at the first sign of a bed bug infestation. Our professional technicians will deploy an effective bed bug inspection and removal, giving you the peace of mind you deserve.
When you sign up for our trusted service, you can expect:
A thorough inspection of your home.

Personalized bed bug removal plans.

Family and eco-friendly products that keep your loved ones safe. 

Guaranteed satisfaction with FREE retreatments if pests return.
Get Rid of Bed Bugs Today
Bed bugs are a notoriously elusive pest. Often burrowing in hard-to-reach areas, just the knowledge of these pests in your home is enough to cause unrest. A bed bug infestation is best spotted by the small red bumps they leave behind after feeding on a human host. If you notice you or your loved ones having a series of small red bumps on their body, it's time to call Beebe's Pest & Termite Control. Our company understands the importance of getting rid of bed bugs as soon as possible, which is why we offer same-day services to tackle the problem immediately.
Wildlife Control in Foley
There are a lot of little critters that have made Alabama their home. While they're okay to observe from far away, no one wants these animals breaking into their home and causing expensive damages. Our staff of local technicians brings 125+ years of collective experience to your front door and will offer you fast, professional service. Here at Beebe's Pest & Termite Control, we're ready to protect your home from:
Armadillo.

Bats.

Birds.

Opossums.

Raccoons.

Rodents.

Snakes.

Squirrels.

And many more!
Every inspection begins with a thorough look around the property to determine what kind of wildlife needs to be handled. Our experts will then use safe, humane removal techniques to move the wildlife off of your property. As always, we offer our satisfaction guarantee, which means we will return to the property free of charge if you aren't satisfied with the results!
Keep Wildlife Where It Belongs – Outside
In addition to pests and termites, Beebe's also handles wildlife control, and our wildlife removal experts can tackle any wildlife infestation with ease in a quick and efficient way. These invaders aren't just a nuisance– they can carry dangerous diseases like rabies and infest your homes with ticks and fleas. We know how unsettling this is, which is why we offer same-day and Saturday services to give you peace of mind as quickly as possible.
Get Guaranteed Pest Relief
Choosing to bring in professionals means that you expect the pest problem to be resolved quickly and efficiently, and we are very conscious of that at Beebe's. In order to help all of our customers make the decision, we make sure to offer our pest guarantee with every service. This means that if after service you are unhappy or the pest returns, then we will do everything that we can to resolve the issue, up to and including free retreatments.