Pest Control in Mississippi
Household pests come in many shapes, sizes, and forms. But no matter which one sneaks into your house, we're guessing that you want them gone as quickly as possible. So if you're under pressure from any of the following nuisance pests, let us know right away to get the help that you deserve!
We offer pest control services in:
Biloxi
Jackson
Ocean Springs
Hattiesburg
Vancleave
And surrounding areas
Image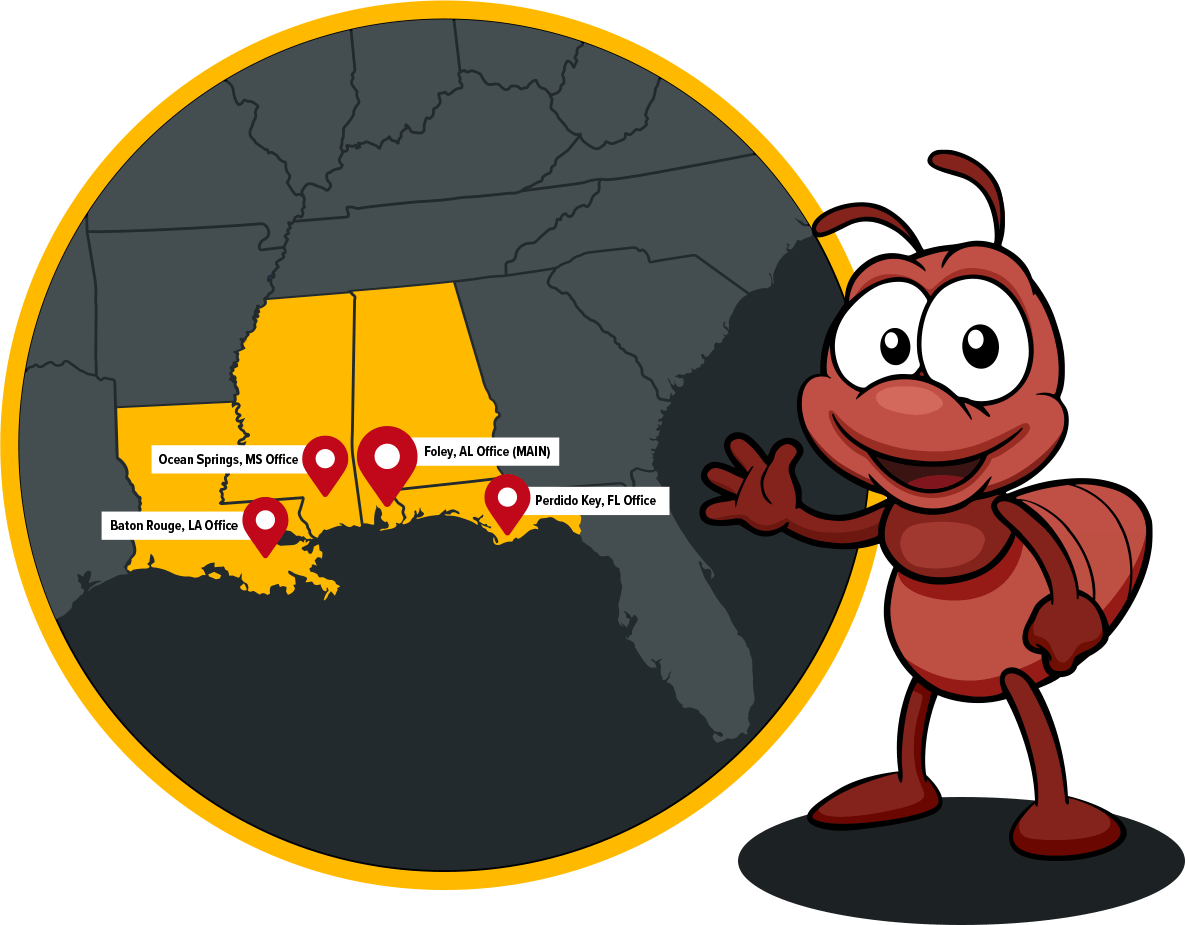 Mississippi's Most-Experienced Exterminators
Any way you slice it, experience matters when it comes to removing pests from your home and preventing them from coming back. There's no substitute for time on the job and the institutional knowledge that a pest control company gains from it. Our outstanding staff brings more than 125 years of collective experience to the table, making us one of the Gulf Coast region's most seasoned groups of pest exterminators! When you work with us, you can anticipate:
A carefully-conducted inspection

in and around your home. 

Service from exterminators who receive

industry-leading training and ongoing education.

 

Personalized pest control plans

that address your unique needs, no matter what they are.

Eco-friendly, EPA-Approved products

. 

Guaranteed satisfaction

with

FREE retreatments

, if needed.

And lots more!
Get Rid of Pests TODAY With Same-Day Service
We've been around since 1979, during which time we've seen it all, and yet we're still not sure why some pest control companies make you wait for days on end to get the help you need. That just never made sense to us. So at Beebe's Pest & Termite Control, we're proud to offer available same-day and Saturday service to help you get rid of troublesome household pests on your schedule.
Termite Treatment in Mississippi
There's a reason why termites are so unpopular among homeowners. After all, they're directly responsible for over $5 billion in damage each year! Knowing that, you can't afford to have anything but the best termite treatment in Mississippi on your side. Our industry-best techniques and formidable exterminators will have them gone in a hurry, but detection is where it all starts, so let us know right away if you observe any of the following: 
Faint scratching or chewing noises coming from behind your walls.

Wooden fixtures which sound hollow or feel papery to the touch.  

Swollen floorboards that look to have sustained recent water damage.

Discarded insect wings in your home, usually in the spring.

Powdery black or brown termite droppings, most often found near exit holes to their tunnels.
Mosquito Control in Mississippi
Question: what is the most dangerous animal on Earth? If you didn't say, "Mosquitoes," you probably aren't alone. These diminutive bloodsuckers have a reputation for being annoying, but what you may not know is that mosquitoes are responsible for the spread of some incredibly serious diseases, including:
Malaria

West Nile Virus

Zika Virus

Yellow Fever

Dengue Fever

Various forms of Encephalitis

And many, many more!
At Beebe's Pest & Termite Control however, our mosquito control in Mississippi is precisely what you need to keep your loved ones safe. Our MistAway botanical insecticide treatment and years of experience along the Gulf Coast make us the most trusted name around when it comes to giving you back a mosquito-free yard!
Rodent Control in Mississippi
Anyone who's ever found rats or mice in their home can tell you exactly how unnerving it is. Rodents are among nature's most dangerous and destructive household pests you'll ever encounter, and getting rid of them quickly is essential. Here at Beebe's Pest & Termite Control, our rodent control in Mississippi offers a holistic, effective, and lasting approach with results that you can count on. So sign up today and you'll receive: 
A full home inspection

from a qualified, local rodent exterminator. 

A bespoke rodent removal plan, built around your exact needs.  

Eco and family-friendly products

.

Protection from rodent-borne illnesses such as

Typhus, Hantavirus, and Bubonic Plague

.   

The mouse and rat-free home you deserve.
Trust our Complete Satisfaction Guarantee
Pest control isn't something that you can gamble on. The consequences of choosing the wrong team are just expensive at best but disastrous at worst. At Beebe's Pest & Termite Control, we back up our service with one of the most comprehensive satisfaction guarantees that you'll find anywhere. On top of our 100% satisfaction guarantee, we proudly offer free retreatments in the event of pests returning.