Pest Control in Alabama
Roll Tide, War Eagle, or indifferent, household pests invade homes up and down Alabama, regardless of allegiance. And when they do, problems often follow close behind. We can can help you stay a step ahead even the most aggressive and bothersome home invaders. 
We offer pest control services in: 
Mobile
Orange Beach
Robertsdale
Spanish Fort
And surrounding areas
Image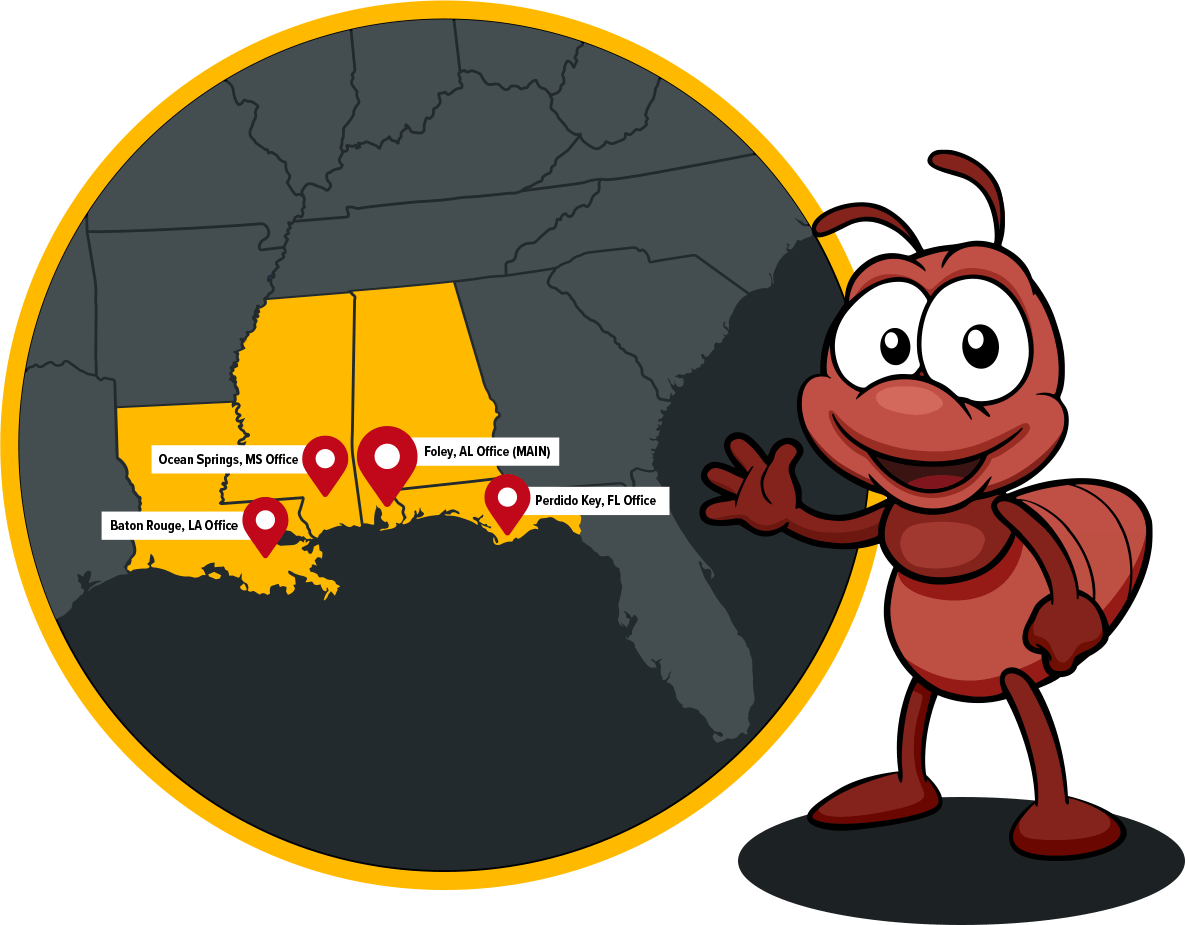 Experience You Can Trust
There's nothing like hands-on experience when it comes to getting rid of pests in your home. Practice makes perfect after all and here at Beebe's Pest & Termite Control, we have no shortage of it. Our outstanding team of exterminators brings more than 125 years of combined practical and professional experience to your home, making our pest control in Alabama the one to choose when you need the job done right, When you choose to work with us, you can expect:
A thorough inspection in and around your home

to identify your exact pest control needs.

A personalized plan to get rid of pests

as quickly and efficiently as possible.

Eco-friendly, EPA-approved products

that keep your family and local environment safe. 

A pest-free home

that you can count on to stay that way. 

And much more!
Get Rid of Annoying Pests Today
When you're already dealing with a stressful pest infestation, there's nothing worse than waiting around for hours, or even days, on end to get the relief you need. That's why we eliminate that problem altogether with our available same-day and Saturday service! Pest control should happen on your schedule and when you partner with us, it finally will. 
Termite Treatment in Alabama
There are times when it can seem as if termites are an unstoppable force of nature. And seeing as they're responsible for more than $5 billion in home damages each year, it's hard to argue with that idea. But with the right help and ongoing maintenance that accompanies our termite treatment in Alabama, you can rest assured that your home is off the menu! With our reduced-risk products, ongoing home protection, and minimally-disruptive treatments, you can depend on us to keep your home safe. 
Let us know if you notice any of the following signs of termite activity in your home:
Faint scratching or chewing noises coming from behind walls.

Warped door and window frames.

Buckling floorboards. 

Apparent water damage without the presence of actual water.

Hollow-sounding wooden fixtures.

Piles of discarded wings, usually during springtime.
Mosquito Control in Alabama
Alabama's aggressive mosquito populations aren't just limited to the Gulf Coast Area. As the weather turns warm each year, the buzzing, biting, disease-spreading menace that is the mosquito will seemingly stop at nothing to spoil a nice day outside. Instead of staying indoors all spring and summer, look to our comprehensive mosquito control in Alabama and our MistAway botanical insecticide spray treatments to send them on their way! At Beebe's Pest Control, we use only the most reliable, rigorously-tested products to keep your yard safe and comfortable all season.
Our service includes:
A revolutionary automatic mosquito misting system

Precision-engineered mosquito misting nozzles installed at the perimeter of your property
Automatic 30 to 60 second mosquito killing mist treatments twice a day
Rodent Control in Alabama
The world is full of unpleasant pests but our more than 40 years serving communities across Alabama have taught us that rodents are by far the worst. Fuzzy and cute though they may be, mice and rats are among the most dangerous household pests that you'll ever encounter! Given that, you need an experienced expert to provide you with the most dependable and very best rodent control in Alabama. At Beebe's Pest & Termite Control, we always go the extra mile and provide you with:
A top-to-bottom home inspection

to determine the source of your infestation.

Custom-designed rodent removal plans

that we build around your needs. 

Family-friendly mouse and rat control products

.

Protection from rodent borne hazards like

personal injury and electrical fires

.

Prevention of dangerous diseases like

Typhus, Hantavirus, and Bubonic Plague

.   

A rodent-free home guaranteed!
Your Satisfaction Guaranteed!
At Beebe's Pest & Termite Control, we're so confident that you'll be thrilled with our work that we're willing to back it up with a 100% satisfaction guarantee. To us though, just doing that isn't enough. To take it a step further, we're also proud to offer FREE retreatments if pests return once we've left. Choose the local, family-owned pest control company that puts your needs first and we promise that you'll be a customer for life!