Pest Control in Gulfport
Wherever you are in Southern Louisiana, chances are good that bugs are lurking and ready  to get into your home. Our warm, humid climate is ideal for a wide variety of pests. Your home, with its comfortable conditions and free food, is simply too good to resist. That's why you need a dependable pest control company to protect your home from:
Ants

Spiders

Cockroaches

Rats and mice

Stinging insects

Mosquitoes

Bed bugs

Termites

And many others!
Image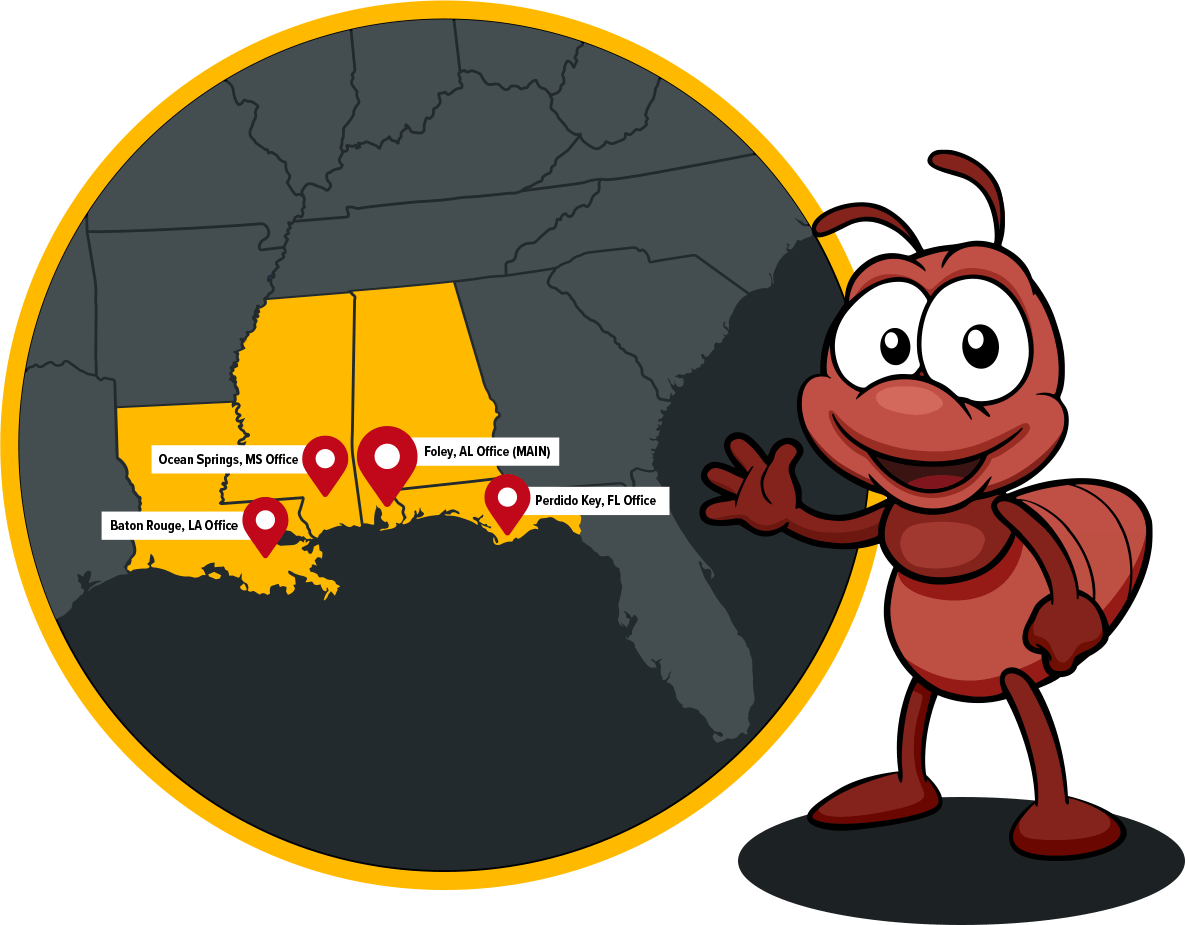 Family-Friendly Treatments in your Home
When you're dealing with an infestation, solving the problem solely using toxic pesticides can cause its own set of problems. For your family's safety, we use exclusively family-friendly and EPA-approved pest control products in your home. Your peace of mind matters to us and we want you to feel good about calling us out to your home. With more than 125 years of combined experience on staff and 40 years in business, you can count on us to get the job done right every time.
Sign up today to receive:
A thorough inspection of your home and surrounding areas

to assess your specific needs. 

Custom-designed and flexible pest treatment plans

which deliver maximum results and address your needs. 

Long-lasting pest prevention strategies and ongoing maintenance

from a team that you can count on. 

A total satisfaction guarantee

on every service we offer.

Available FREE retreatments

of pests come back once we're gone. 

And lots more!
Termite Control in Gulfport
While there are plenty of nasty pests out there, few can cause as much damage to your home as termites. After all, these tiny bugs quite literally make a meal out of your home! With their destructive ways, termites are responsible for over $5 billion worth of home damage every year. With our team of experienced exterminators, you'll never need to worry about termites again. 
Our termite control service includes:
A thorough termite inspection

in your home to determine your exact needs and the extent of any existing infestation.

Flexible treatment plans

designed around you.

Minimally-disruptive service

to make the whole experience as pleasant as possible. 

Available recurring termite treatment plans

for year-round protection. 

The

peace of mind

that comes with a termite-free home. 

And more!
Rodent Control in Gulfport
Mice and rats aren't just a nuisance. They pose significant health and safety risks in households around the country. Rodents destroy property with gnawing, producing noxious odors, and even carrying diseases like hantavirus, typhus, and salmonella. To the average rodent, the human home is a beacon of food and shelter, so enlisting the help of a rodent control expert is the best way to keep your household safe.
At Beebe's, we have four decades of hands-on experience with effective rodent control in Gulfport. Our comprehensive process includes the following:
A thorough inspection that provides for both interior and exterior.

A personalized rodent removal plan from a dedicated exterminator.

Family-friendly products and methods to preserve your peace of mind.

Same-day and Saturday service to accommodate your busy schedule.

Our 100% satisfaction guarantee!
Don't wait to defend your home from rodent hazards. Call on the experts at Bebees for reliable rodent control
Bed Bug Control in Gulfport, MS
Sleep soundly again with Beebe's Pest & Termite Control in Gulfport. Our same-day and Saturday bed bug inspections ensure that you get a prompt, thorough assessment of your home. Never let another night be ruined by these stubborn parasites. Our experienced bed bug exterminators will customize a control plan to meet your unique needs, so you can say goodbye to bed bugs once and for all. Trust our 40+ years of experience in Gulfport to deliver exceptional service and effective results. Our bed bug control program includes the following: 
Rapid relief: Say goodbye to sleepless nights with our efficient and effective bed bug treatments. We understand the stress and urgency of a bed bug infestation, and our team is dedicated to providing you with fast results.
Same-day and Saturday inspections: Don't wait around for days to have your home inspected. We offer prompt inspections, so you can take immediate action against bed bugs.
Family-friendly products: Safety is our top priority. We use products that are safe for your family and pets, while still effectively eliminating bed bugs from your home.
Experienced exterminators: With over 40 years of experience in the industry, our team has encountered and successfully treated countless bed bug infestations. Trust our expertise to get the job done right.
When it comes to bed bug control service, Beebe's Pest & Termite Control has been the industry leader since 1979. With over four decades of experience, our exterminators have seen it all and have the knowledge and skill to tackle any infestation. Don't settle for anything less than the best when it comes to treating your home. Put your trust in a company with a proven track record of success.
Your Satisfaction Guaranteed!
At Beebe's Pest & Termite Control, we're so confident that you'll be thrilled with our work that we're willing to back it up with a 100% satisfaction guarantee. To us though, just doing that isn't enough. To take it a step further, we're also proud to offer FREE retreatments if pests return once we've left and a full money-back guarantee if you still aren't happy after we come back. Choose the local, family-owned pest control company that puts your needs first and we promise that you'll be a customer for life!